Over-Sized Lot 1.25-Acre Residential Lot For Sale In Wintersburg, AZ, Near Buckeye South of The I-10 In The Path of Growth For The Phoenix Greater Area
MARKET VALUE UP TO $15,900 BUY TODAY For as Little as $11,000
Property Description
The official address of the property is 5150 S 351st Ave Tonopah.
Be sure to check out this LARGE 1.25-Acre residential lot located near Wintersburg, AZ near Buckeye and in the path of the Phoenix greater area. Phoenix is planned to grow in this direction and Buckeye has been labeled one of the fasted growing cities in Arizona. According to an article in the Arizona Republic: "Buckeye, has been annexing so much land it's about to rival Phoenix in sheer size. Its small downtown is still south of Interstate 10, but now its northern boundary stretches along the White Tanks so far that Buckeye is almost butting up to Wickenburg." Knowing this, large developers have already started breaking ground on developments large enough for over 300,000 people to live in the area west of the White Tank mountains, pushing almost all new development in the greater Phoenix area deep into the West Valley (where this property is located). Do your research on the parcel and area and own land here before it gets too expensive.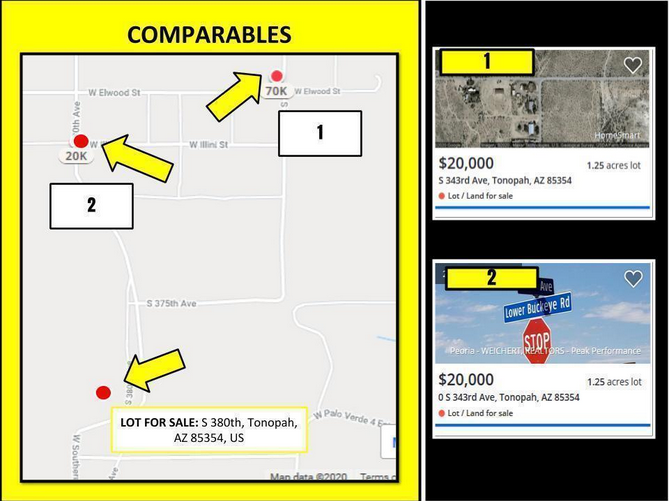 OWN IT TODAY FOR JUST $15,900.00 
$12,964.00 (With Seller Financing)
Check out our affordable payment options below...
OR PAY IN FULL...and get it for only 
$11,000.00


(that is another 15% discount off the already reduced seller financing price)
Seller Financing

Purchase Price: $15,900.00 $12,964.00
Document Fee: $500.00
Total: $13,464.00

FULL PAY TODAY:
Just $11,000.00
Reduced Closing Fee: $250.00

OR FINANCE IT (No credit checks)...
Down
Payment
Interest
Rate
Monthly
Payment
Term
Length
Total Due
Today
 
$500
12.9%
$223.96
96 months
$1,000
$1000
11.9%
$208.96
96 months
$1,500
$2500
10.9%
$178.98
96 months
$3,000
$5000
8.9%
$180.10
60 months
$5,500
*You may pay off the property at any time with no pre-payment penalty.
*A doc fee of $500 is added to all down payments.
Area Information: 
What's Happening in Maricopa County, Arizona?
Phoenix is a rapidly growing city and the capital of the southwestern U.S. state of Arizona. Known for its year-round sun and warmer climate, it boasts the 5th largest multi-city metropolitan area known as the Valley of the Sun. It's known for high-end spas and resorts, Jack Nicklaus–designed golf courses and vibrant nightclubs. Other highlights include the Desert Botanical Garden, two wildlife zoos, and amusement parks around the Valley. All of this and more is just a short car ride away and will only get closer.
The cost of living in Phoenix is 4% lower than the Arizona average.
The cost of living in Phoenix is 7% lower than the national average.
The cost of housing in Phoenix is 9% lower than the national average
Further expansion west includes the city of Belmont, AZ. This new concept 'smart-city' will be adding 80,000 housing units, retail locations, public schools, and office, retail, and industrial areas. With Arizona's low-regulation policy, Belmont will be at the forefront of technological testing and advancement, drawing residents from around the country. The new plans also call for a 5-mile corridor of the proposed Interstate 11 expansion running from Phoenix to Las Vegas to cut through Belmont, creating additional opportunities for those in the area.
The area will only continue to grow and expand, making Tonopah right on the edge of the Phoenix of tomorrow.
Local Hot Spots
Attractions & Other Information
There are many places to go and things to see in the area. Among these are:Arizona Chamber Symphony
Arizona Chamber Symphony
Arizona Opera (also in Tucson)
Arizona Science Center
Desert Botanical Garden
Chandler Center for the Arts
Heard Museum of Anthropology and Primitive Arts
Grady Gammage Auditorium (at ASU)
Nelson Fine Arts Center (at ASU)
Phoenix Art Museum
Phoenix Symphony
Phoenix Zoo
Shemer Art Center
Symphony Hall
Taliesin West, former summer home of famed architect, Frank Lloyd Wright
SPORTS & RECREATION
Outdoor recreation abounds in the area. Among the offerings are:
The Arizona Cardinals (NFL Football)
Phoenix Suns (NBA Basketball)
Phoenix Mercury (WNBA Basketball)
Arizona Diamondbacks (Major League Baseball)
Phoenix Coyotes (NHL Hockey)
Arizona Rattlers (Arena Football)
Cactus League (professional baseball spring training)
Professional golf tournaments during the season
Phoenix Greyhound Park Racing
Phoenix International Raceway
Golf Courses - 25 within 15 minutes
The Fiesta Bowl
Sun Devil Stadium
Similar properties in the area are listed or have been recently sold for around $15,900.
Buy this property today for just $11,000! (You save $4,900)
To purchase this property today call Us at 1-(866)-786-6952 now!
Map To Property
Property Address:
Similar properties in the area are listed or have been recently sold for around $15,900.
Buy this property today for just $11,000! (You save $4,900)
To purchase this property today call Us at 1-(866)-786-6952 now!
Property Details
Status: SOLD
State: AZ
County: Maricopa
Parcel Number: 506-42-027Y Plat Map
Short Legal Description: S2 NE4 SW4 NW4 NW4 SEC 27 1N 6W
Annual Property Taxes: 42.15
Size (In Acres): 1.25
Road Access: Yes - Paved
Zoning: VACANT UNDETERMINED RURAL NON-SUBDIVI
Terrain: Flat
Notes
Terrain: Flat-No Trees
Electricity: Call APS Electric 602-371-3614 or 800-240-2014 for any questions
Water: CAll AWEBB Services 480) 610-8741 or Mule Services 623-810-1850
Sewer: Please contact Maricopa Zoning and Planning: (602) 506-3301
Similar properties in the area are listed or have been recently sold for around $15,900.
Buy this property today for just $11,000! (You save $4,900)
To purchase this property today call Us at 1-(866)-786-6952 now!
*Disclaimer – Buyer must perform their own due diligence they should do with any land purchase. This land is sold as is and all information provided is to the best of seller's knowledge. Seller does not guarantee accuracy of property location on maps or descriptions show in listing as well as facts describing the property. Buyer to verify all details of property including property location and boundaries and lot lines, as well as feasibility to use property for buyer's desired purpose.  Many of the pictures provided are not personally taken by the seller and some of the presented pictures represent the general area near/around the property. All utilities related to this property are potentially subject to a connection charge or additional expense to bring them to or onto the property.  Furthermore, It is understood and agreed to by the parties involved that selling party, while holding an equitable interest in and to the property, is not presently making, and has not made, any representation to any party that it holds legal title in and to the property.  To the fullest extent permitted by law, the Buyer hereby agrees to waive, release and forever discharge sunnyland.com, Sunnylandeals.com and all its affiliate companies from any claim, be it at law or in equity, that the Buyer, their heirs, transferees, assigns, subrogees, devisees, and agents may allege, arising out of our disclosure(s) of its present interest in and to the property, if any as well as out of any potential and accidental discrepancies in lot lines, pictures or property location to the actual property.
I'm Interested In This Property